Orchard mason bees (Osmia lignaria) won't just improve your garden, they'll win your affection and enhance the neighborhood. Orchard mason bees — also known as blue orchard bees, or most commonly simply as mason bees — are human-friendly early spring pollinators of flowers, vegetables, and fruit trees. Whether you own a garden, a farm, or a grove, you're sure to benefit from the top-quality bees and propagating tubes from Urban Pollinators LLC.
Mason Bees
What do orchard mason bees look like?
Mason bees are dark blue, but they appear almost black. Stiff hairs protrude from their bodies. Males have what appear to be white hairs on their faces and underbodies. Females are larger than males, with shorter, thicker antennae.
Mason bees are also much smaller than honey bees or bumble bees, at only about 1/4 inch long. They are often mistaken for flies, especially when flying. Mason bees can range from about 1/4 to 3/4 of an inch in length.
Orchard Mason Bees. Photo of bee on pink flower is courtesy Sam Houston.
The life cycle of orchard mason bees.
The life cycle of mason bees is simple. Mason bee eggs are laid in cylindrical nesting tubes. In the wild, the nesting tubes are constructed from mud. Females both lay and fertilize the eggs. Fertilized eggs produce female bees, while unfertilized eggs produce males.
The female bees do the heavy lifting. They spend the rest of spring and early summer gathering nectar and pollen. Their hairy underbodies gather, carry, and — as they bustle about gathering — distribute the pollen. The male mason bee's job is simple: to mate with the females, then die.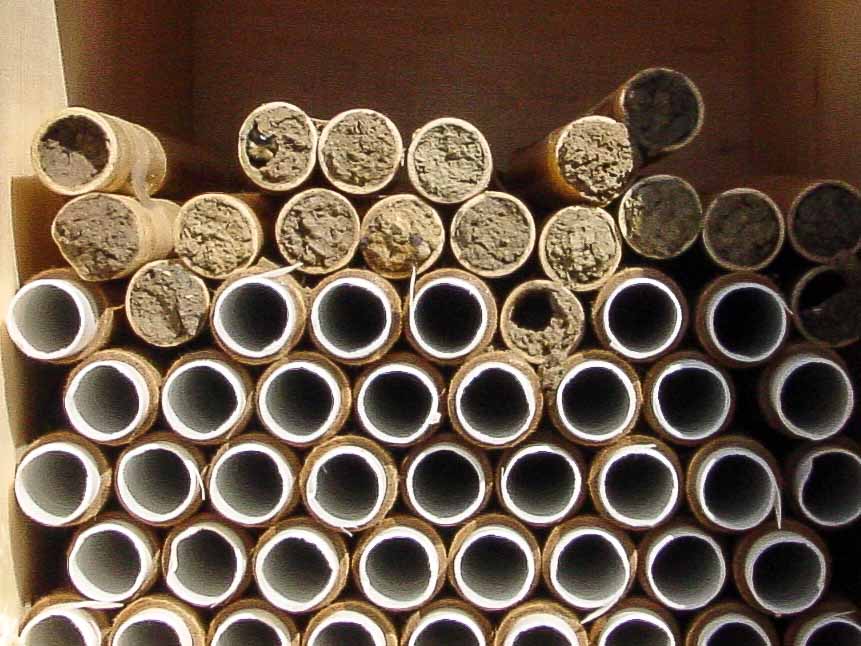 When a female has accumulated a larval-sized serving of pollen, she deposits it in a tube. She then lays an egg, seals off that cell with mud, and repeats the process with succeeding cells. When the last cell in the tube is complete, she builds an extra-thick mud wall to seal off the nesting tube and protect it from predators. She will continue to repeat this process, in multiple tubes, throughout the spring and early summer, until she dies. (Some good news for Western Oregonians: rainy weather doesn't deter mason bees from pollinating.)
Within a few days of outside temperatures reaching 50°–55°, the bees begin to emerge. Male bees, laid in the outside end of the tube, emerge first. It may be as much as two weeks later when the last of the females emerge.
During the summer months, the bee larvae will consume the food in their cell, spin a cocoon, and develop into adult mason bees. During the fall and winter the bees will stay dormant within the tube. Then, when spring arrives — bringing with it a proliferation of flowers and blossoms — the young adult bees emerge, and the life cycle begins all over again.
Are orchard mason bees dangerous to humans?
People are safe around orchard mason bees and no protective gear is needed. Female mason bees do have a stinger, but there is no queen to protect and all females are fertile. They would sting only in a life threatening situation. And, in the rare case when they do sting, it's more like a mosquito bite than a honey bee or wasp sting.
Where Should I Place My Mason Bee House?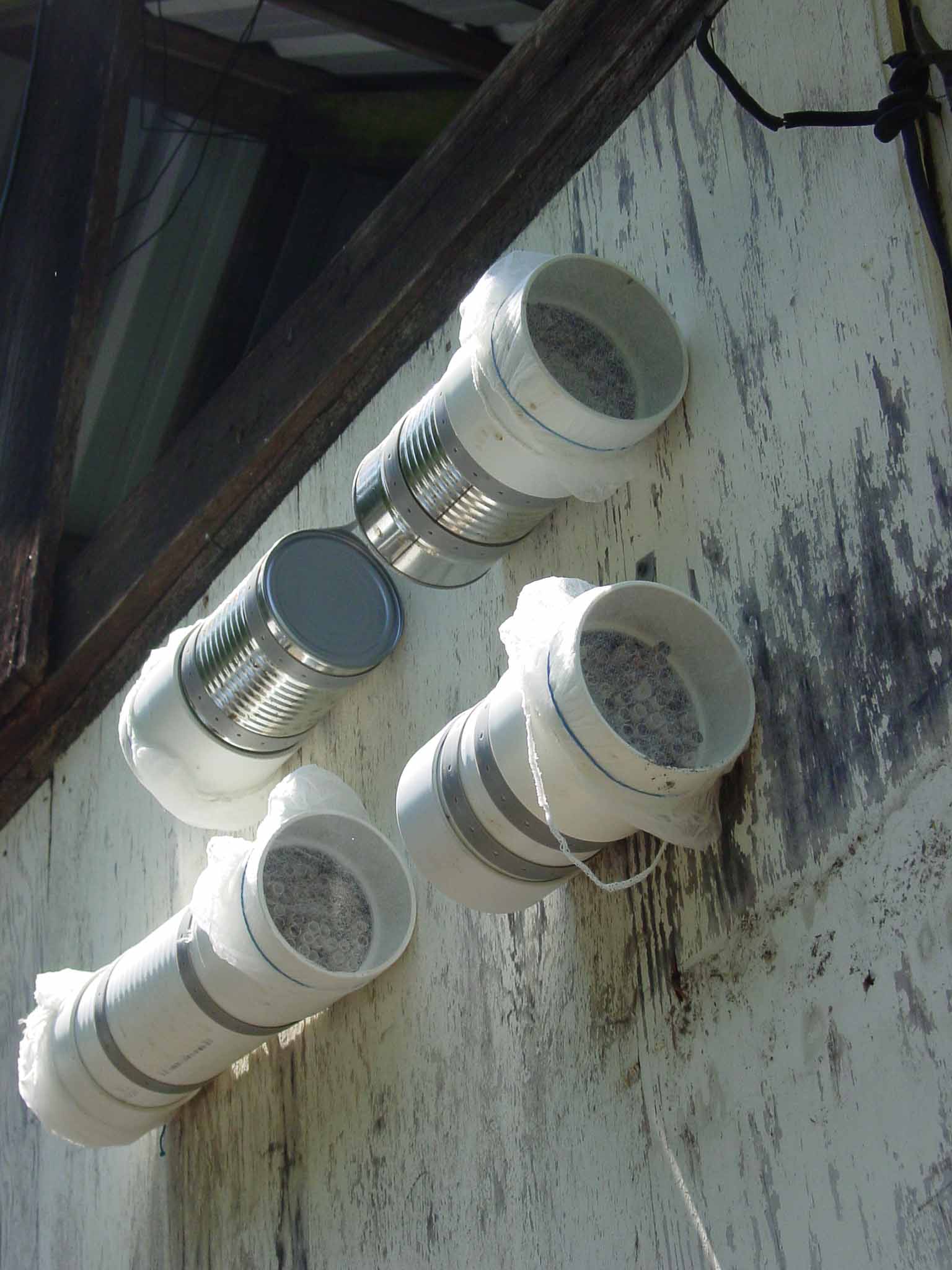 All mason bee houses should be placed on a south or southeast facing wall, low enough to catch the morning sun, but near enough to the eaves to protect them from the rain and wind. Placing your house on a fence or attaching it to a tree allows predators easy access.
If the best location for sun and protection is a high-traffic area, think about limiting traffic or placing a temporary barrier while the bees are emerging in early spring; this will protect them from being stepped on by people and large pets. Our founder, Rick Brown, has a large dog, so he places two or three 5-gallon buckets, turned upside down, to deter the dog and protect any bees that might fall to the ground as they emerge from their tubes.
All of your bees should emerge within two weeks after the first bees appear.
Why use Protective Covers?
When the female bees have laid all of their eggs and you see no further activity at your mason bee house, you should place a mesh protective cover over the open end(s) of your bee house or nesting tubes to protect against predators. Common predators include wasps, birds, and squirrels. The covers allow air to circulate around the tubes while preventing birds from pecking at the tubes or wasps from laying eggs into the mason bee larvae.
If you had put one or two rubber bands around your nesting tubes before placing them in your house, just gently remove the bundle of nesting tubes and place the protective cover over the exposed end(s) of the tubes, secure the cover with another rubber band, and return the tubes to your house.
The best way to check for bee activity is visit your mason bee house in the early evening and shine a flashlight into the ends of the nesting tubes. If you see female eyes looking back at you, there is still activity, so don't cover the tubes.
What do I need to do to start raising Mason Bees?
We suggest that you begin your mason bee journey with one of our starter kits and two 12" tubes of bees. To be successful you'll need: a good food source, moist dirt or mud during their life cycle, and protection from predators during their development. Remember that not only will the bees pollinate your yard, they'll pollinate your neighbors' yards, too.