United States Needs More Pollinators
Today, scientists, beekeepers, and the general public share a widespread concern over the global decrease in honey bee populations and the resulting reduction in plant pollination.
Clearly, there is a need for more pollinators. Orchard mason bees are an excellent additional source for plant pollination.
Urban Pollinators LLC in Eugene, Oregon, provides mason bee supplies to gardeners throughout the United States.
You can both increase the pollinator population in your area and discover a new hobby. Urban Pollinators has everything you need.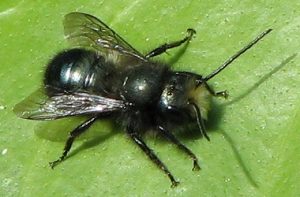 What Are Mason Bees?
Learn more about how these efficient, human-friendly, early spring pollinators will enhance your garden, orchard, and flower beds.
Orchard Mason Bee Supplies from Urban Pollinators, LLC
Browse Urban Pollinators' quality selection of nesting houses and beekeeping supplies. Our houses are simply and effectively designed, time-tested, easy to clean, environmentally friendly, and offer years of service.
Urban Pollinators has earned a reputation for affordable prices on your essential mason bee supplies.
We'd love to talk with you about how orchard mason bees can improve the output of your garden, and serve your neighborhood, our community, and the globe. Here's how to contact us.